Everything looks perfect on the table when you have a brilliant table setting that will beautify the table top. The addition to the settings are the tasty recipes that you can prepare it for your loved ones. Scroll down to see 10 brilliant table setting ideas that you will adore!
Purple and white, blue and white, orange and white, red and white, green or yellow, black and white coloured ceramic and porcelain kitchenware, what is your TABLE SETTING CHOICE???
Purple butterfly design, ceramic setting
Purple colour in combination with white looks very nice and appealing for every table. Choose this butterfly design and show your guests how stylish person you are. And don't forget to tell them about our amazing website with the best ideas.
Pink and white porcelain table decoration
As we can see this large table setting contains a perfect teapot, coffee cups, plates and all you need for preparing a dinner for special guests. One table, arranged in the way like this will make your guests say WOW!
Red and white porcelain table setting decoration
Read and white combination for kitchenware simply look awesome. If I have a chance to choose one of these table settings, I will definitely choose this one. It really caught my eyes!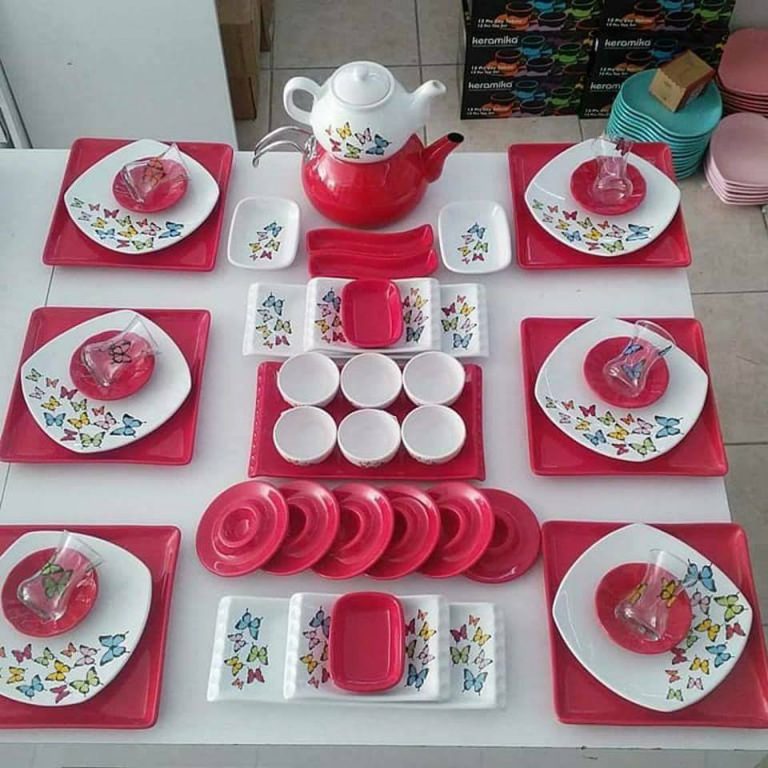 Blue and white table decoration
Another great idea is a blue and white combination with butterflies. Excellent choice for those people who know exactly what like. Is this your choice?
Black and white ceramic
Standard colours that always looks great. To choose this set means that you have made one of the best choices!
Romantic heart shaped red and white porcelain
And, we have again red and white which show us the beauty of the red colour used for decoration. Romantic people will surely choose this for preparing dinner for the people they love.
Green and white butterfly design
Cool green and white setting suitable for any type of table, circular or square.
Orange and white butterfly design, ceramic
White and orange look great. It will look much better if you prepare one tasty dinner recipe stolen from our website. Check this link and find out how to prepare it!
Pink, blue and white flowers design, ceramic
Interesting design with flowers, white, red and pink colour combination. As we can see the white colour is dominant. What do you think, can you really count how many pieces are here?
Red and white ceramic table decoration
Red and white table setting, again the same colours but this time different table set. I left this exclusive idea to end this post. If you like this post, feel free to share it on your walls, also feel free to save the images on your desktop. Thanks for reading this and follow our website until you are waiting for another table setting ideas! We are coming back in a few days with new ideas!