Travelling makes us happy, but also hungry. Maybe this is the reason why we find tasty food in some world cities. The best food city in the USA is definitely San Francisco. City, where cooking is a pleasure and food, is delicious. This is the main reason why you should visit it. Go there and eat like a king. But first, see what is the best to eat and drink there.
Check out the best food city in the USA you have to visit – San Francisco. Try cioppino, xiao long bao, salted caramel ice cream are one of the best recipes in this city. Find out more about the best food destinations.
San Francisco
San Francisco is a go-to food city. Beautiful food city with a lot of restaurants and rich food offer. The best period of the year to visit this city is fall or spring. During the spring the temperature is mild, and during the fall the temperature is warmest of all seasons. This city is known for its Golden Gate Bridge, for good restaurants and food.
What to eat and drink in the best food city – San Francisco?
When going to this lovely city, is better to know information about the food and the restaurants. This city offers you special recipes. Travelling around, you can see a lot of open kitchens, communal tables, etc. Here, cooking is a pleasure. Come and eat traditional food. Eat cioppino for an appetizer,  xiao long bao for lunch and for the dessert choose salted caramel ice cream! About the drink, the best thing you can order here is anchor steam beer.
Cioppino
Tomato-based fish stew (calamari, Dungeness crab, mussels, and other types of seafood favourites mixed together.) This traditional food that originates from San Francisco has a history. Here is the story of this traditional food. The story starts in the late 1800s. An Italian fisherman of North Beach, used whatever that was leftover from the day's catch of the sea for lunch. The mix was made of a crab, shrimp, clams, and fish. On this combination, it was added onions, garlic, and tomatoes. Next, all these ingredients were cooked with olive oil and wine. Firstly this seafood meal was eaten just on the boat by the fishermen. After tasting it, the restaurant cookers steal the recipe and started to cook in the restaurants. Try cioppino when coming to San Francisco!
Xiao Long Bao
This is a traditional Chinese food, steamed dumplings, and is favourite in the best food city in America, San Francisco. These are the best dumpling in all USA. What's inside the dumplings? Inside of the dumplings is meat from chicken, pork and cured a ham. The broth gelatin melts if you steam the dumplings. Some of the popular restaurants in San Francisco where dumplings are mastered are Bund Shanghai Restaurant, Chilli house, China live, City view restaurants, etc. Read more about xiao long bao 
Salted Caramel Ice-cream
The ice cream season leads you in San Francisco! In the best food city in the USA, you can order the best dessert- salted caramel ice-cream. Caramel Ice-cream is a favourite must-order dessert for all of us when going in this place. Is a mix of cream with caramel and it tastes delicious. Salted caramel and banana ice cream are always on the menu!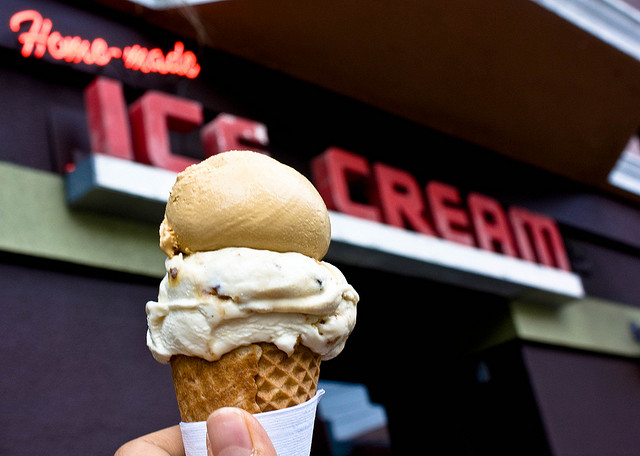 Photo via www.zagat.com
Anchor steam beer
This beer is a San Francisco treat. Next time, when going to this lovely city, drink anchor steam bear! Cheers!