Food storage and organization is of the highest importance for one kitchen place. We need to think carefully and to find a place for any type of food. This place should be clean an cold. Is not so easy to find a place for everything. You need a place for fruits and veggies, a place for canned food. Although, you need a place for wine bottles and herbs. Do you have enough space for all of this? If NO, read this full text and find out how to solve the food organization problem.
For example, you can add baskets in drawers for food organization. Or, you can buy plastic rack shelves for the refrigerator and organize fruits and veggies there. Another great idea is to keep food in hanging mason jars. These mason jars are hanged on cabinet doors. If there is a cold empty room of your house, use it for food placing. These photos are showing you fantastic ways of food storage and organization. when you will finish with food organization, reorganize the kitchen tools with our best ideas. Check out how to do that in the easiest way, just click on this link.
Take a glimpse!
Organized kitchen use pantry food organization
Extra storage for keeping fresh fruits and veggies. Kitchen pantry should be always organized in the best way.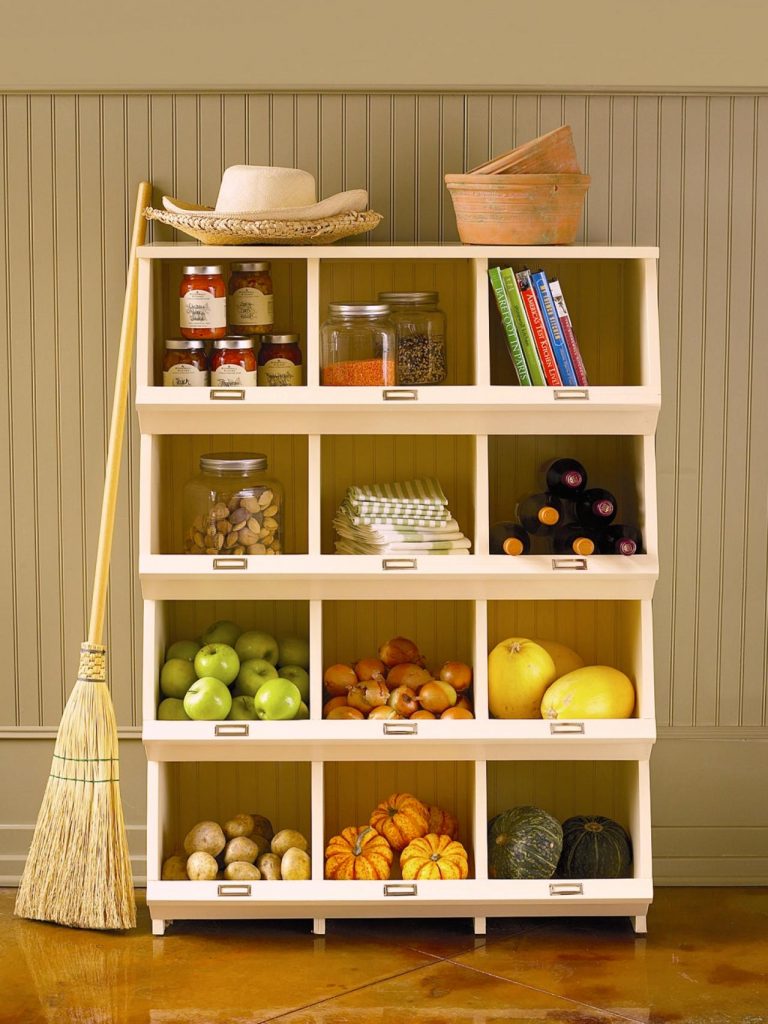 Outdoor wall shelves for food storage
Smart idea for those who have an outdoor kitchen. Use an outdoor wall with shelves. Arrange here bananas, peas, apples and fresh flowers.
Cold room storage ideas
Use an empty small and cold room of your house for organizing the fruits and vegetables there. Make this place the favourite room in the house. Imagine, fresh apples, fresh cucumber or lemons… Yummy.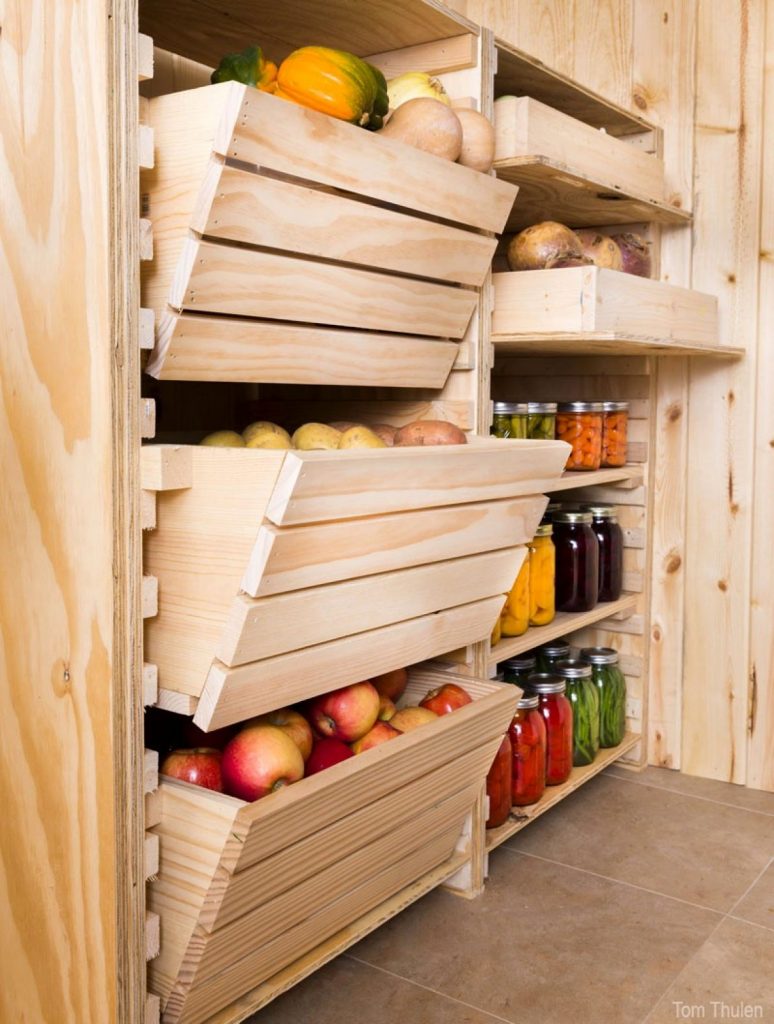 Kitchen floor basket for food organization
Floor baskets are inexpensive and have a lot of usages. For example, it can be used for fruits and bread storage. the interesting thing is that you can replace this basket wherever you are going in the house.
Wooden shelves for fruits and veggies storage
Green salad, potatoes and onion need a special place. The reason for that is of their bad smell. Keep fresh in your room with this idea.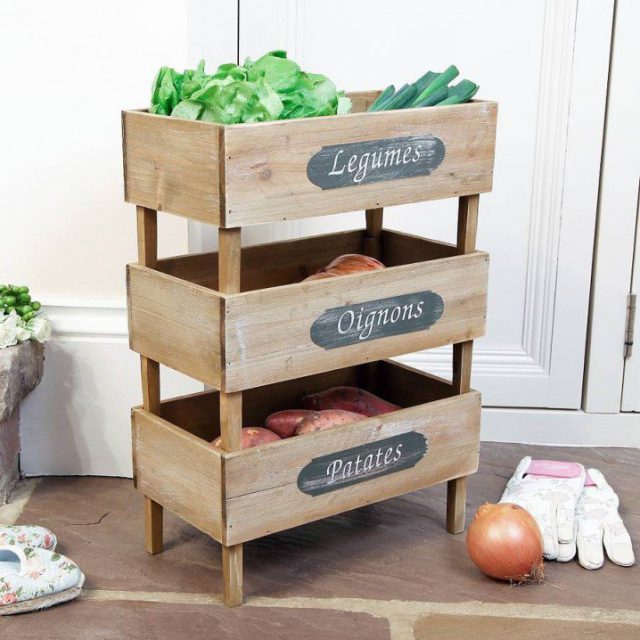 Kitchen pantry organization idea
Use this idea for organizing the healthy food.
Vegetable basketing for food organization
I'm not very sure how vegetables and fruits will be fresh keep like this. But, is worth to try it.
Hanging mason jars used for food storage
Great idea to save space in small kitchen countertops. Add food in mason jars and hang it on kitchen cabinet door. Would you try this cool idea for home?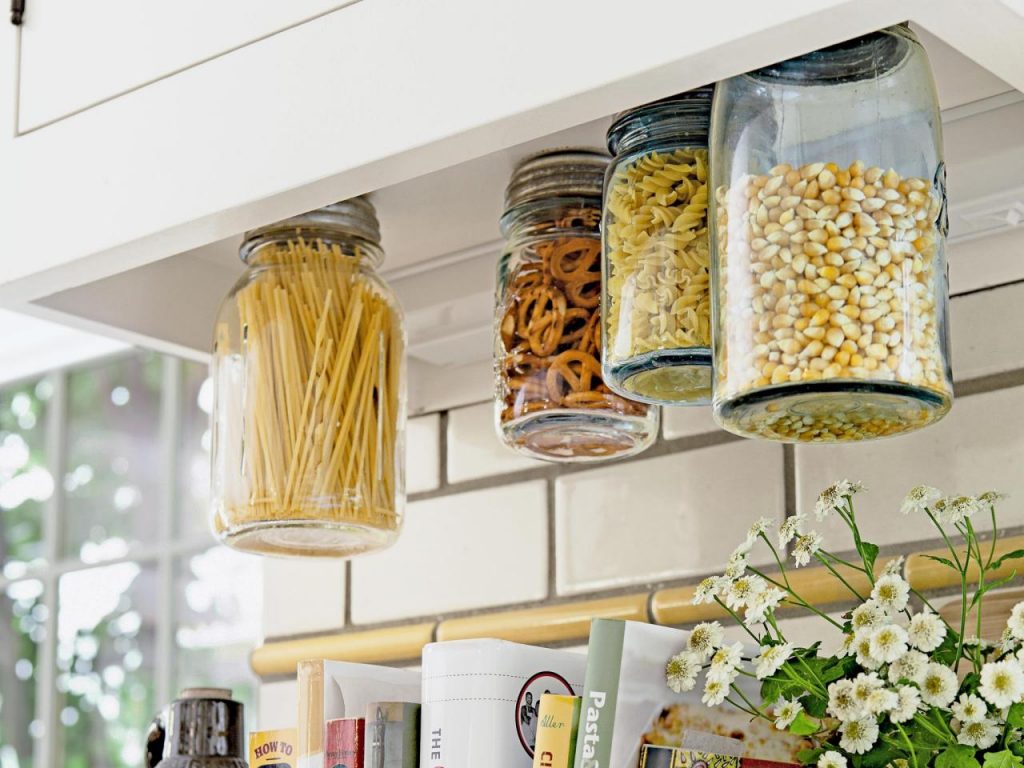 Storage rack shelving can be used to save space in the refrigerator
In the refrigerator might be used plastic racks for food organization. Save space.
This is the last photo, thanks for your attention!