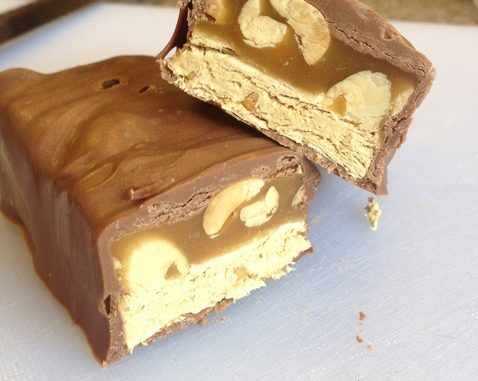 Hey snickers lovers, how are you? We have interesting recipe for you and it's about how to make chocolate snickers a home in an easy and quick way. It's cheaper to make it at home instead of buying the chocolate in the stores, so learn how to make it.
Follow this link to learn how to add canned pill pickles in mason jars and enjoying in the taste for the whole winter period.
Here are the ingredients that you will need for preparing this chocolate at home:
Cups Granulated sugar
½
Cups Golden syrup
¼
Cups water
1
egg white
⅛
Teaspoons salt
½
Cups peanut butter
1
Cup granulated sugar
¾
Cups heavy cream
½
Cups golden syrup
4
Tablespoons unsalted butter
¼
Teaspoons salt
2
Cups roasted salted peanuts
½
Teaspoons vanilla extract
2
Pounds milk chocolate

Milk chocolate chips

14-ounce bags of caramel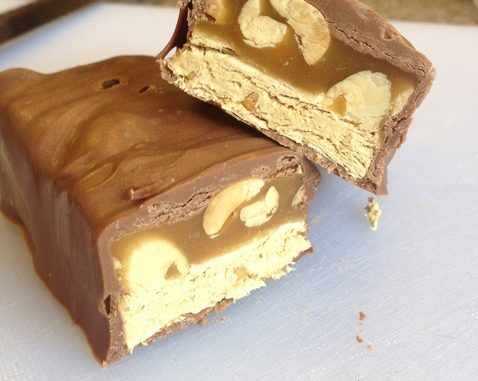 After showing you the ingredients we will give you the full recipe so read it:
The first step of making the snickers recipe:
Here is the first step of making the chocolate at home. Thoroughly grease a 9×13 pan. I lined it with heavy-duty aluminum foil and sprayed with cooking spray. This way they just popped right out.
Second step:
The second step is about how to make the bottom layer: Add chocolate chips and peanut butter in a microwave-safe dish. Melt them together, stirring after every 30 seconds being careful not to let the chocolate burn. Spread the layer evenly in the bottom of your 9×13 pan. I put each layer in the fridge to let it completely harden. This will help speed up the process because each layer needs to be completely cooled and set.
Third step:
Making the nougat layer is the third step and here is more explanation about how to prepare it.  Melt the butter over medium high heat in saucepan. Add the milk and sugar and bring mixture to a boil. Cook for 5 minutes, whisking together occasionally. Add in marshmallow fluff, peanut butter, and vanilla stirring until
The last step:
The last and my favorite step is this one. Melt chocolate and peanut butter in the microwave together stirring 30 seconds at a time until smooth. Pour over and spread evenly over the caramel and make the caramel layer. When you will be finished with this step you will make delicious and tasty chocolate and the name will be SNICKERS!
Thanks so much for your attention and keep following our page in the future for reading more recipes similar to this that you can make at your won home!