Hey friends. In our previous posts, we gave you ideas about making healthy food recipes at home. But now we will show you how to decorate the kitchen place, choose nice elements for the place and arranging here the kitchen tools. Take a look in the following photos and find some idea and imagination about kitchen designs and make your kitchen looking the same!!!
Also, follow this link and read the last post shared on our page and was about tasty cocktails you can make in your kitchen place and free time. Refresh yourself during the summer period alone, with family or friends but first of all, take a look in the following ideas and take care of having nice kitchen designs and organization!!!
You have to arrange nice the decorative kitchen elements in the kitchen place
In the first photo, you can see how to arrange the spoons, forks, and plates in a nice way and still have a well-organized kitchen. Come on, spend some time to see this creative design and idea we have to share with your dear friends!!! This is the very first idea from the post so take a look in it right now.
Make the best organization of plates in the kitchen and dining table
In the second photo from the post, you can see how to arrange the plates and forks in a different and creative way and having a nice kitchen place while at the same time enjoying cooking. We are proud when our kitchen looks nice so if you want to have a nice kitchen too, take a look in the photo that follows right now.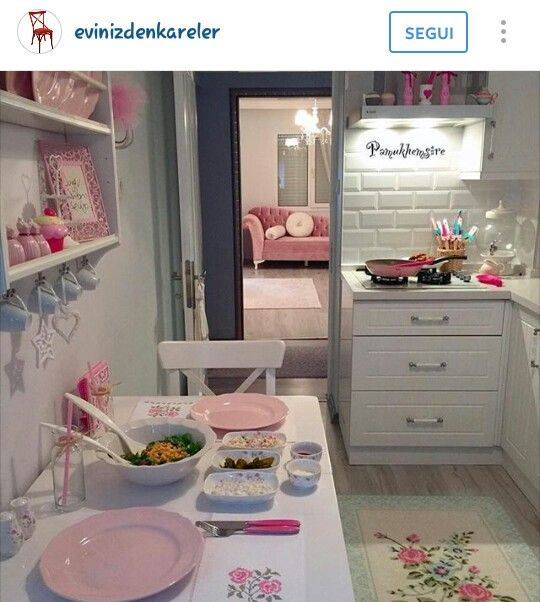 Baby pink and white combination in the kitchen place
For the third photo, we offer you nice design and kitchen storage. All kitchen elements can be added in pink color and you can have nice kitchen decor in the same time to have modern kitchen place. With a kitchen like this, you will wish cooking here all free time.
Create an amazing coffee table in your kitchen place
We all have some favorite part from the kitchen place that motivates us to start cooking while we are coming into the room. For example, we can create a coffee station and table where we can arrange all kitchen stuff in the way like is shown in the following PHOTO!!! This is the last photo from the post so hope you enjoyed in the full text!!!
Well, friends, photo by photo we are to the end of this post so hope you are all ready in your kitchen and trying to copy-paste some of the designs we shared with you. thanks so much and keep following our page for seeing and reading more posts with photos!!!