Hello dear friends. How are you today on this cold Monday? We are great, thanks for asking, positive like always, in super mood to show you some interesting catering ideas. This time, we have special ideas about ladybug salads and kids will surely like these ideas! Please say that you have enough time to prepare this in your cuisine!!!
Check the last RECIPE we shared the day before that was about how to prepare matcha layered cheesecake and the result was stunning.
Ladybug salads with mozzarella
To prepare this salad you will need tomato, olives, spinach, mozzarella and this is it! Check the photo that follows and this will help you to prepare the same catering in your own home. I like this and will try to make it, and you?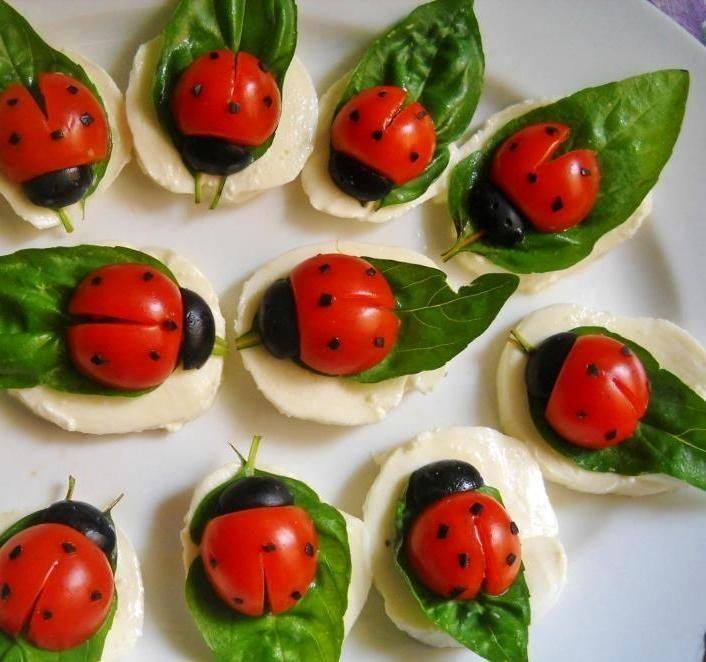 Caprese ladybugs
The second recipe is about how to make perfect appetizers for you and your kids. And here are the ingredients for eh following carpet ladybugs, that I love it:
24 Crackers
6 ciliegine fresh mozzarella balls in water, drained, each cut into 4 slices
24 fresh basil leaves
12 cherry tomatoes
6 pitted black olives
Now when yo have the ingredients, just do the ladybugs salads!
If you still have something unclear about how to make appetizers or salad that will look like a ladybug, don't worry because I found a tutorial. I will now upload the video where you can see the full recipe for making the salad. Just watch till the end!
Thank you so much for your time dearest friends and we invite you to be with us the next day when we will be here again but this time with new ideas! Have a nice start of the week and stay positive as we are always!