You are working all day, having no time for cooking and preparing a dessert for your loved ones? Don't despair. we are here to show you how to make lazy desserts. Just use our ideas with full recipes. Make this no-bake dessert and make your children happy. Here is the perfect way about how to make the no-bake strawberry cake, chocolate cornstarch, chocolate cheesecake pudding pie. Save your time, do this quick and easy recipes for making tasty no-bake desserts! Check out our no-bake desserts that are worth your time.
No-bake banana pudding cream dessert
Preparation time: 10 minutes
1 box (3.4 ounces) instant banana cream pudding mix
1 cup milk
25 crushed Golden Oreos
6 tablespoons butter
8 ounces cream cheese
1/4 cup granulated sugar
8 ounces whipped topping
Mix the golden Oreos and butter. In a large bowl beat cream cheese with sugar. Stir in 1 cup of the whipped topping until combined. Next step is to spread over crust in the pan. Take a large bowl, add the pudding mix and whisk in milk until pudding thickens. Spread it over the cream cheese layer. For decoration, add crushed golden Oreos on the top. Mmm, I love this dessert!
No bake raspberry crumble
Preparation time: 8 minutes
2 1/2 cups fresh or frozen raspberries
1 cup walnuts
1 cup dates
1/2 cup unsweetened shredded dried coconut
1/4 tsp sea salt
Wash the raspberries and add it in a large bowl. Add coconut, walnuts, and salt until walnuts are reduced in size.
Add dates and continue to process until mixture resembles a coarse meal that still looks fluffy. Layer the mixture on top of berries. Use a wooden spoon to stir gently until raspberries are well-coated in the mixture.
Spoon into two or three bowls. That's the recipe for healthy no-bake desserts!
No-bake Nutella cheesecake
Preparation time: 25 minutes
2 and 1/2

 

cups

 

Oreo cookie crumbs

 

about 30 cookies

6

 

tablespoons

 

unsalted butter

 

melted

24

 

ounces

 

cream cheese

 

softened

2

 

cups

 

Nutella

1 and 1/2

 

cups

 

confectioners' sugar

1/2

 

cup

 

heavy cream

4

 

ounces

 

semisweet chocolate

 

finely chopped

1-2 

cups

 

roasted hazelnuts

 

roughly chopped
Here is the full recipe: Use crushed Oreos and melted butter to make the crust. The filling you can make with cream cheese, Nutella, and sugar. For the ganache, you will need a heavy cream and semisweet chocolate. When the ganache is finished spread it over the filling. For decoration, sprinkle chopped hazelnuts on the top of the ganache. Now, you prepared no-bake Nutella cheesecake. Bon appetite!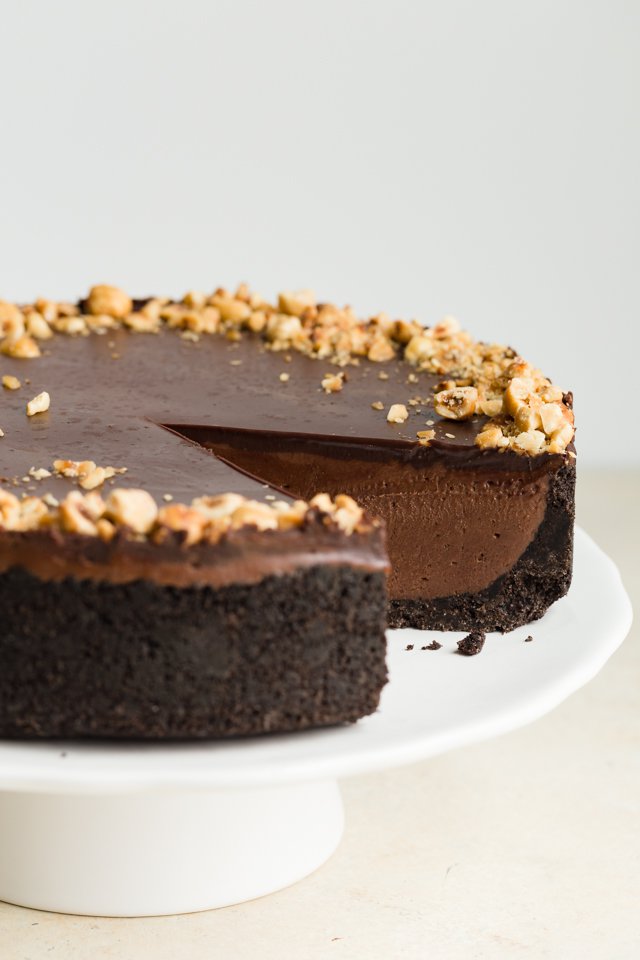 Chocolate cornstarch
Preparation time: 10 minutes
a cup of white sugar
3 tablespoons coconut powder
1/4 cup cornstarch
3/4 cups milk
1 vanilla extract
1/8 teaspoon salt
In a large bowl, mix together sugar, cocoa, cornstarch, and salt. Stir it in milk. Bring to a boil, and cook. While cooking stir constantly, until mixture thickens enough to coat the back of a metal spoon. After removing from heat, stir it in butter and vanilla. Eat warm this dessert called chocolate cornstarch!
No-bake desserts: strawberries cake
Preparation time: 5 minutes
strawberries ( 1/3 of whipped topping, and 1/3 of strawberries.)
 a

ll Butter Loaf Cake

1

 

tablespoon

 

sugar

8

 

ounces

 

3 cups of whipped topping
This is the easiest lazy recipe for no-bake dessert, made of strawberries. Add 1 tablespoon sugar to the diced strawberries. Slice the loaf cake into thirds. Add it on a serving dish, and start with laying the 1/3 of strawberries mixed with sugar. Repeat this step three times to make a no-bake strawberries cake.