Hey friends, how are you? We are back on this page and this time our topic won't be the tasty recipes of food but it will be how to organize the kitchen tools in a smart way. We will focus on superb dish organizer and here is why you have to stay with us in the following minutes. Spend your free time with us and see nice ideas for your home place!!!
Also, read the last post shared on our page and was about the white heart that is hidden inside the cookies. But first, check the photos and find some useful idea for your kitchen place and impress yourself!!!
Nice dish storage organizer for any type of kitchen design
In the first photo, we can see how to arrange the plates, spoons, and forks and here is how it looks nice. Not just looking great but also it saves place in the kitchen place. I invite you to take a look at it and find motivation for own kitchen.
Cool mason jars for organizing here forks and spoons
In the second photo, we can see how to use mason jars and storage here all the spoons and forks we have in the kitchen place. This is space-saving and gives you the kitchen one very nice design. Pay attention to the photo now.
Buffet plate dish organizer idea for you
The third idea is again great and is about how to organize the plates and kitchen tools here. Here are all forks and spoons you can storage and with this to save on time and save on space. Take a look in the photo and if you want to order this in-home, check the link below the photo or check the other photos too.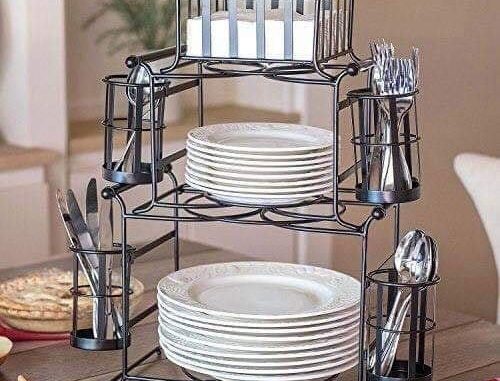 Adjustable dish storage racks
And in the next photo, you can see an adjustable dish plate organizer. Here as you can see there is place enough for towels, forks, spoons and some excellent choice for every kitchen place. So, spend some time to take a look at it.
This was the last photo from this post so if you want to read other great ideas please check other posts shared on our page or keep following us in future. And now, check the last photo from the post so to finish the same in an easy way. Thanks for your attention and have a nice start OF THE WEEK!