Hey, there dear friends. Every day is a day for new beginnings, new recipes, and new cooking experiences! Today we will give you the full recipe about how to make swiss roll cake at home and enjoy in the taste! Spend your free time with us and learn something new, useful for you and your family!
Check our last post that wasn't about the tasty recipe but was about how to reuse the cupcake liners and muffin pans in the most creative way. 
What kind of cake is this? A Swiss roll, jelly roll, roll cake, or cream roll is a type of sponge cake roll filled with whipped cream, jam, or icing. The origins of the term are unclear. In spite of the name "Swiss roll", the cake is believed to have originated elsewhere in Central Europe and it's well known in all worlds. This cake will bring you back in childhood when you were a child and eating it. Check the ingredients you will need to make it and after that read the full instructions about how to make it.
INGREDIENTS THAT YOU WILL NEED FOR MAKING THE CAKE: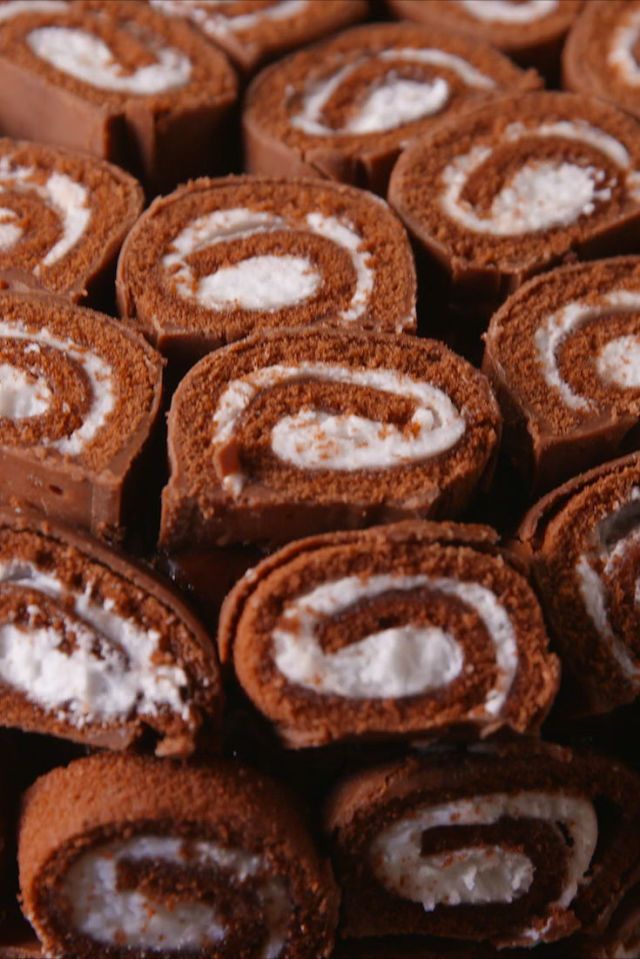 egg whites
sugar
(15-oz.) box devil's food cake mix,
plus ingredients called for on the box
FOR THE MARSHMALLOW FILLING YOU WILL NEED:
1/2 c. 
(1 stick) butter softened
1 
(7.5-oz.) jar marshmallow creme
1 tsp. 
pure vanilla extract
FOR THE GANACHE you will need
24 
Swiss Rolls, sliced crosswise
Recipe
 Whipping the egg whites and sugar into stiff peaks takes at least 5 minutes, and next add pale and creamy. Then, pour the egg yolks and the coffee or butter. Beat all together and spread in the baking pan. Bake in an oven for about 10 minutes. After baking, there is no need for cooling but already continuing with cooking. Now, invert the warm cake onto parchment paper or a clean thin kitchen towel dusted with cocoa powder. Roll the cake now but before rolling put the filling in it and make swiss roll cake. Good appetite!!!
I hope that you learned how to make it and you will surely make it in your home place and be kind to tell the recipe to your friends that enjoy in sooking. Thank you so much for your time, we appreciate every minute spent with us and our team!