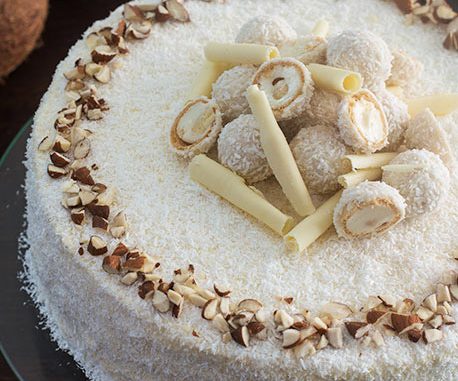 Good afternoon friends. If you are Rafaelo cookies lover, as for me either, you must try to make this sweet Raffaello cake that we will present to you now. This cake is also known as almond coconut cake, so spend some time to read the recipe.
If your kids love cookies and cupcakes, check these creative cupcakes done with love for your children.
To prepare the cake is cheaper than buying the cookies and you will need ingredients like these: ( these ingredients are for 12 people)
For the filling of RAFFAELLO CAKE you will need this: 
6 large eggs
salt
200g sugar ( 1 cup)
100g ground almonds
1 cup (125g) all-purpose flour ( use the same cup for measuring)
5g almond extract
And for the White Chocolate Coconut Frosting you will need this: 
7 oz (200g) white chocolate
3 tbsp (45g) canned coconut milk
9 oz (250g) Mascarpone cheese, room temperature
2 cups (500g) whipping cream, 35%fat, chilled
1/4 cup (30g) powdered sugar
1/2 cup (40g) unsweetened shredded coconut
1 tsp (5g) coconut extract
The ingredients for decoration on the top you will need: 
1 cup (240g) canned coconut milk
unsweetened shredded coconut
Chopped almonds, optional
sprinkles, chocolate curls ( white or black, it's your choice)
If you have all these ingredients yo can now start with the making of your bake.
INSTRUCTIONS
The first step, mix egg whites with the salt. In another bowl, mix the egg yolks with almond, add flour, and batter but do this gently. Pour the batter in the already prepared pan. Bake about 40 minutes and let it cool after this about 10 – 15 minutes.
We are to the second step. The second step, meanwhile when your cake is baking, melt the chocolate and coconut in a bowl and prepare the frosting.
Here is the third step. Now, you baked your cake but you need to cut it on 3 layers. spread 1/3 cup (80g) coconut milk over the cake layer. Spread evenly with a bit less than a third of the frosting. Repeat with the second layer of cake. In the end. add the third layer of cake and spread with the last 1/3 cup (80g) of coconut milk.
Now it only stays to finish the cake and decorate it. The last step is to do the decoration on the top of the cake. Spread the remaining frosting on top and sides of the cake. Decorate with sprinkles, nuts, chocolate curls, or anything else.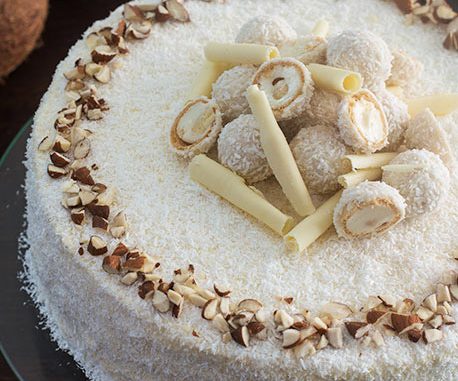 Now you made such an amazing and tasty cake – Raffaello cake! We recommend a glass of white wine with this cake. MMMM share it with your friends!