Hey lovely friends. How are you today? We are great, working on our website to show you the best ideas for home organization. This time you have the chance to read about kitchen organization. We know that keeping a kitchen good organized and clean may be hard. Please accept our help with the best storage ideas offered for free. Check out these must-see brilliant tips for kitchen organization stuff!
For good organization in the kitchen, you may choose open shelving units, kitchen cabinet storage, or maybe kitchen wall racks under the countertop. The C.H.O.I.C.E. is yours! After seeing the images, please share it with your friends!
Display wire racks in the wall under the countertop
This simple idea will make space for kitchen utensils and tools. Under this racks, you still may ad wooden shelves for food storage. And, if you are creative this can be a DIY idea for you. Inspire yourself with this photo.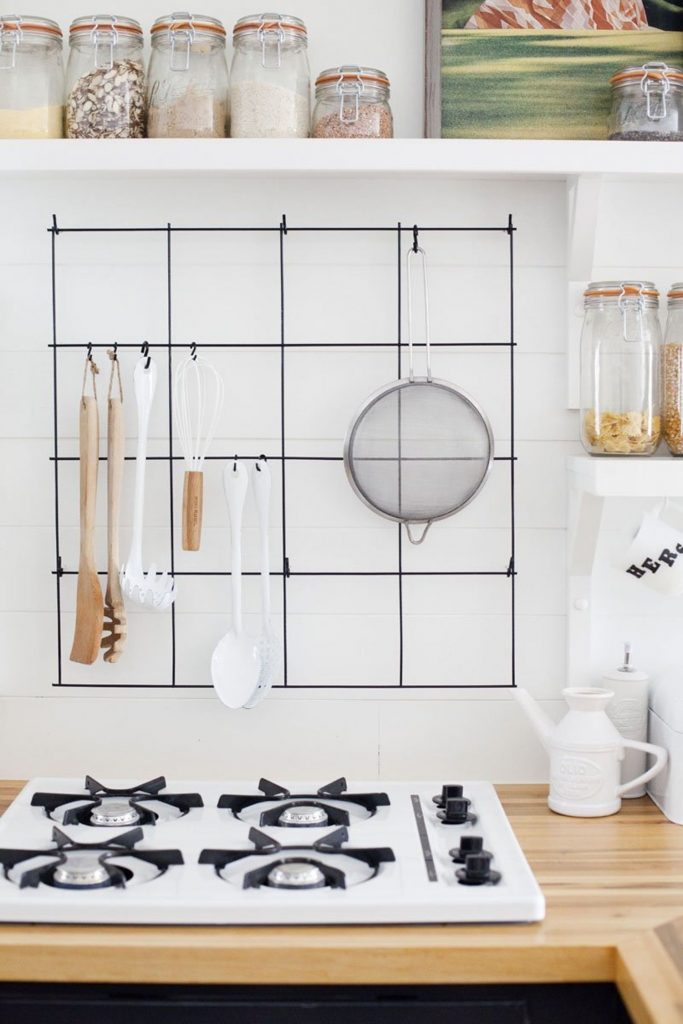 Open shelving organization in the kitchen
One modern way to organize kitchen stuff for this year, 2018.  This time, we offer you a different idea for an organization. See open shelving units for kitchen organization stuff. Here is a place for the dishes, a place for herbs, a place for everything. You don't have the hide the organization about you spent a lot of time. Show your effort to the guests that are visiting you. Show how organized person you are by using this idea.
How to organize the kitchen counter
Some people use baskets for kitchen stuff storage, but the other one uses this amazing rack. Amazing place for utensils and tools you use in everyday cooking. A place for olive oil, salt, sugar and black pepper.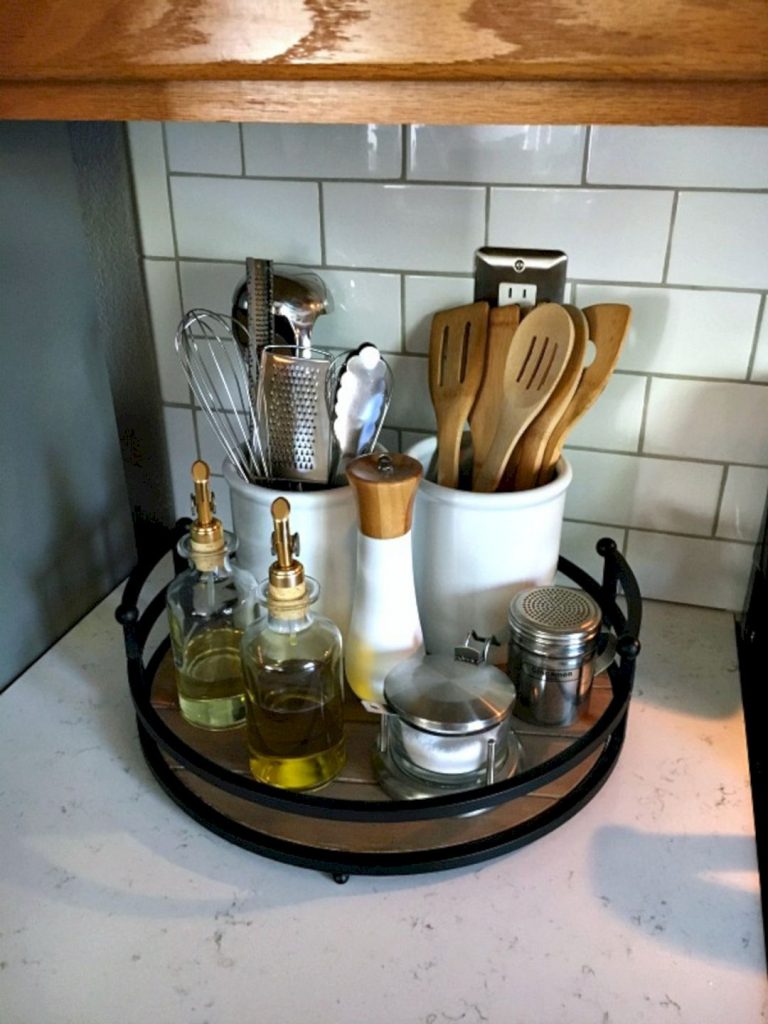 Storage drawer adjustable for every cabinet
A place for knife, forks and spoons – a drawer for smart storage. Be a professional cooker with the best organization in kitchen place.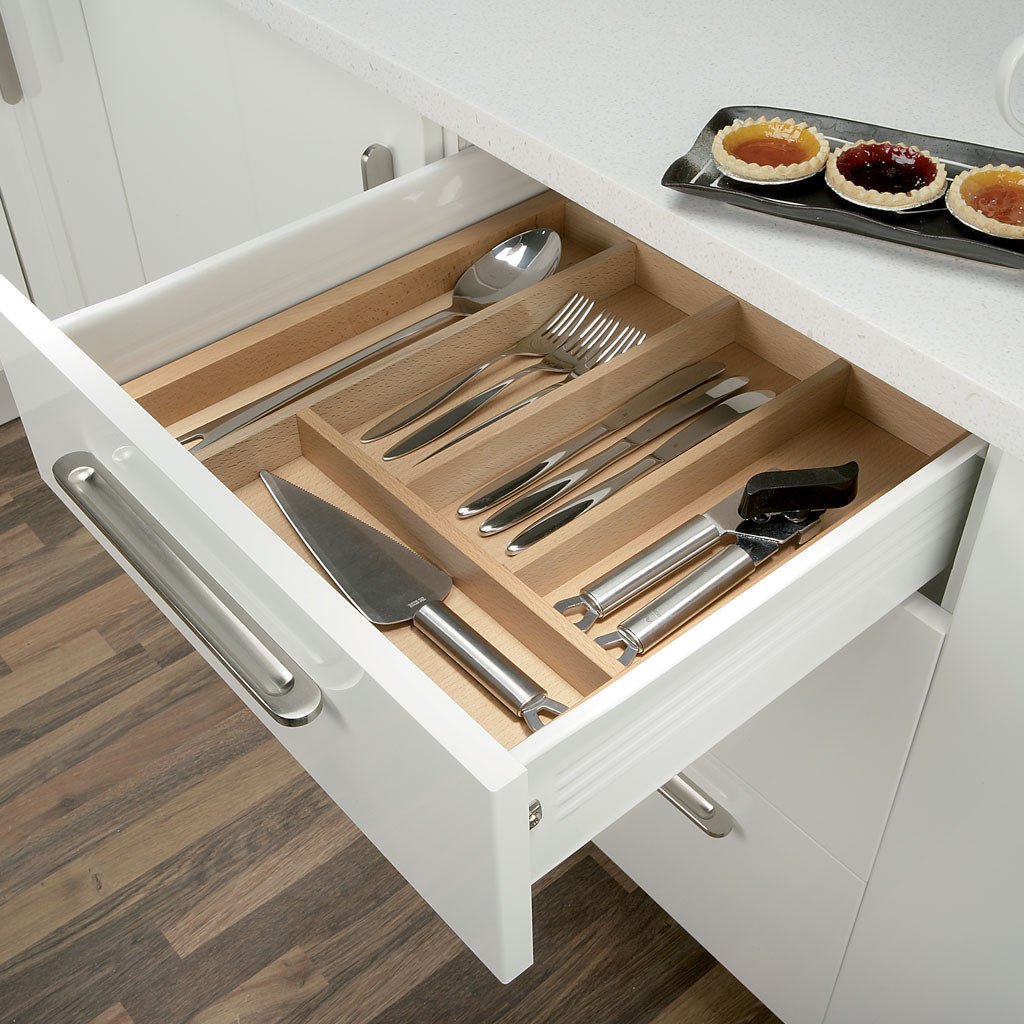 Hanging racks for kitchen utensils
Here is an idea about how to use the wall under the kitchen countertop. Ikea racks are one of the best ideas for your kitchen utensil and tools. Hang it to be organized and to maximize the space.
Smart kitchen organization of pots and pans
For the start of an organization, you may find a secret place for your cooking pots. Arrange it in a kitchen drawer starting of the largest and ending with the smallest pot. See this idea, check the link for more information.
Wooden racks pot holder to make space in a kitchen
If you don't have space in kitchen drawers for pots and pans, see this idea. Wooden wall racks can be of a usage. There is a space for everything, all we need is an idea. The ideas are here and yo have no excuse. Make the best storage right now!
This is the last idea about storage, of this article. But, we will try to find another more inspiring ideas about the same place – K.I.T.C.H.E.N!